12 augusti 2021
How to find a property in Sweden
Looking to buy a property in Sweden, but not sure how it works? Well, you've come to the right place! With over 60 million visits a month, Hemnet is Sweden's most popular housing portal. So no matter which type of property you are looking for, we have something for you! 
But first – here are a couple of things you might need to know about buying property in Sweden, before you start your home hunting:
Access Hemnet via the app or web (hemnet.se, this guide is made for web use). For web, to translate the page, right click anywhere on the page and choose "Translate to English" (depending on which browser you're using).
The two most common housing forms in Sweden are property (you have your own house on your own land) and housing cooperative apartment (you live in an apartment which you have bought the right to live in).
In Sweden, the home viewing, deal and transaction are all handled by the real estate agent. The agents are university educated, their activities are regulated by law and they are responsible for creating all the legal documents needed. The seller pays for the agent but the agent is by law obliged to safeguard the interests of both the buyer and the seller.
There are requirements for how much you must repay on your mortgage and you can't borrow more than 85 per cent of the property's value. Also, you preferably need a written loan commitment from a bank before you get too far in the buying process.
The agent holds open viewings (you can see in the listing at Hemnet when these viewings are planned). Many agents also have online viewings, if you're physically unable to get to the open viewing.
As a buyer, you have the legal obligation to inspect the property, because once you've bought it, you can't hold the seller responsible for any defects of the property that you could've discovered. 
There are of course many more things to know about the process of buying a property in Sweden. But the real estate agent responsible for the property that you're interested in will be more than happy to help you with all your questions. So let's move on to the fun part – finding a home through Hemnet.     
What's Hemnet?
Hemnet has been around since 1998. Here, the vast majority of Sweden's real estate agencies publish thousands of homes of various kinds every week combined. Every year, upwards of 200,000 Swedes (and foreigners) find their next dream home using Hemnet.
You can access Hemnet via hemnet.se on the web via your computer, mobile phone or tablet. We also have apps for both iPhone and Android, which can be downloaded via the Appstore and Google Play. (Note that Hemnet's appearance may differ between web and app.)
What will I find on Hemnet?
On hemnet.se, you will mainly find apartments and houses, both newly produced and so-called "succession homes" (second-hand homes). But there are also: terraced houses, holiday homes, detached plots, farms, woodland and other objects, such as industrial properties, rental properties and boathouses. At Hemnet, you can also get help with your loans and insurance.
How do I search on Hemnet?
So, now that you know what you can find at Hemnet, let's get started finding that dream home of yours!
This is how you do it:
1. Access Hemnet via the app or web (hemnet.se, this guide is made for web use). For web, to translate the page, right click anywhere on the page and choose "Translate to English" (depending on which browser you're using).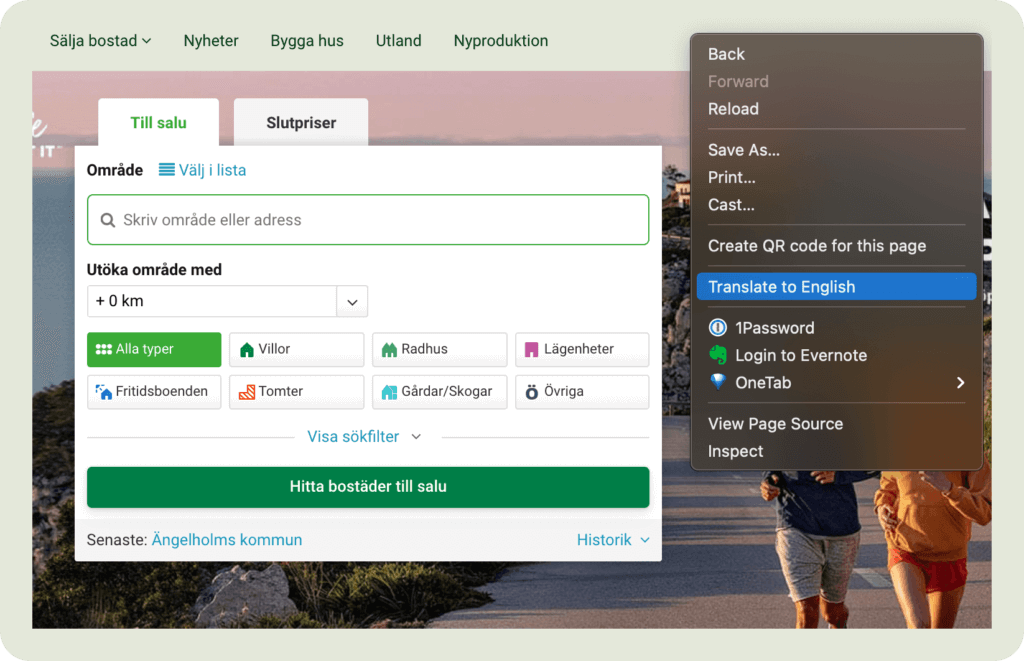 2. Under the "For sale" tab, fill in where you want to find a new home in the search box. You can enter e.g. a municipality, city or street. As you fill in the search box, suggestions can appear in a drop-down list, you can also select an area from here.
3. Choose the type of home you are looking for, e.g. villas, townhouses or apartments (or simply use the default – "All types").
4. If you want to fine-tune your search a bit, you can click on "Show search filter" and then select "Minimum number of rooms", "Living area", "Maximum price", "New production" or "Keywords" (e.g. "balcony" or "elevator"). Then click on the button "Find homes for sale".
5. After clicking the button, you will come to the search result. Here is a list of the homes that match your search. Scroll through the list and click on the ones you like. (You'll need to right click and translate the page to English again.) The list is automatically sorted by "Newest first", but you can click the drop down menu to choose from a number of different sorting options.
6. If you want to refine or change your search, you can do so from here. Just click on the button "More search-options" to be able to search on e.g. year of construction, days at Hemnet, viewing time, square meter price and much more. Then click on "Find housing".
Listings on Hemnet can look different, depending on which ad-package the seller has chosen to buy. Hemnet Bas is Hemnet's smallest package, which provides a cropped image in the results list, Hemnet Plus is the standard package that provides, among other things, a larger image and visible display times in the results list, and Hemnet Premium provides both a larger image and more images, as well as a number of other benefits.
Five tips for finding your dream home on Hemnet 
1. Don't miss the coming listings 
When you have done a search and came to the results list, you will also find a tab here called "Coming". Under this tab, real estate agents publish homes that will soon be for sale. If you find a home here that you like, you can contact the agent responsible directly for more information.
2. Create an account and save your searches
Go to "Sign in" in the upper right corner and follow the instructions, to get a user account on Hemnet. This lets you save your searches and the listings you like. Everything you save is synced between Hemnet's mobile apps and hemnet.se.
3. Set up surveillance emails
Create an account and save a search to automatically receive an e-mail when listings that match your saved searches are published on Hemnet.
4. Click on the agent's contact card
If you find a home you like, click on the real estate agent's contact card in the listing to see what other homes that agent has for sale. These are often other, similar homes in the same area.
5. Search "Similar homes for sale"
In our section called "Similar homes for sale", which you can find further down in each listing, you'll see more homes that are reminiscent of the home whose listing you are currently on.
And of course, if you have any questions whatsoever, don't hesitate to e-mail or call our customer support.
You can reach us at +46 775 17 00 00 or [email protected].
Happy home hunting!